Daycare & K-12 Education Debt Collection Services
Your Accounts Receivable Experts
Daycare workers and K-12 educators need to stay focused on child development and education. Unfortunately, there will be families who occasionally have past-due accounts with child care and teaching institutions. Spending already limited time tracking down overdue bills is never an ideal solution in this important line of work.
We Understand Education Debt Collection
IC System is a reliable K-12 education and daycare debt collection agency that can recover unpaid accounts and tuition. Get back to helping children grow and learn — and spend your time the way you intended! Take advantage of our K-12 and daycare debt collection services where we do the work for you.
IC System provides peace of mind for any daycare, preschool, or K-12 education debt collection concerns. Our expertise in child care and school accounts receivable will resolve your debt collection needs while ensuring that your positive relationships with past-due families or even faculty continues after resolution. ---
We offer two effective K-12 & daycare debt collection approaches to resolving past-due accounts.
Our products are designed to help you save time and maximize recoveries on a range of daycare and school accounts, as well as before and after school programs for children at elementary and middle schools across the country. These past-due accounts may be for unpaid early childhood tuition, sport and after-school activities fees, registration fees, driver's education fees, or school lunches and nutrition costs. They may even be for faculty or educator overpayments.
Nationally Licensed Experts
When someone with a past-due balance moves out of state, our national licensure comes into play. We continue to work accounts across all 50 states, as well as Guam and Puerto Rico, while many agencies cease efforts when consumers cross state lines.
Learn More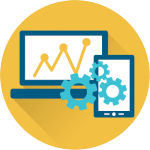 Tools
Managing outstanding receivables is simple with an intuitive platform and powerful features. Check the status of accounts, view reports, access statements and more with our tools.
Learn More
More Experience, Better Collections
Since 1938, IC System has collected on student and school fee accounts. Our experience extends throughout the United States to hundreds of educational organizations, and that experience had led to more recoveries for our clients.
How Daycare & Education Debt Collection Works
Manage your accounts receivable, streamline your collection process, and have more time to focus on daycare and education with IC System services:
Dynamic Products
Simple Account Placement
Effective Collection Strategy
Revenue Recovered
Get Started
Improve your financial outcomes with IC System's Daycare and Education Collection Services.
Download our Collection Services Overview PDF